Regular price
$200.00 USD
Regular price
Sale price
$200.00 USD
Unit price
per
Sale
Sold out
10oz Bottle Purple Sticky AtomiX™  
Dream Herb Liquid Tincture Extract
Dream Herb (Calea zacatechichi) is the most famous lucid dreaming herb, due to its designation as a visionary entheogen by Mexican Indians. When smoked or taken in tea, it has been said to enhance dream recall, visions, and clarity.
Purple Sticky Brand™ AtomiX™ Extractions Tinctures - Herbs | Extracts | Smokeables™ | Teas | Incense | Micro Fine Extracts Natural Herbs - Can be added to beverage, diluted, smoked, put in coffee, or a great compliment to your favorite smokeable product. 
Share
View full details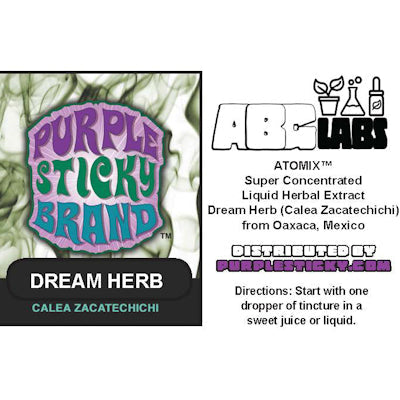 Sign up today
Free Shipping Available

Create account, then verify your email / text:

For free standard USPS shipping in the continental US with orders over $60.